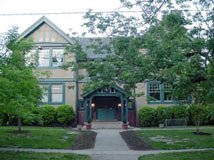 The location for Richmond Contra Dances is the:
Lewis Ginter Recreation Center
3421 Hawthorne Ave
Richmond, VA 23222
( NOT Lewis Ginter Botanical Garden)
This century-old building has a great wooden floor Great Hall on the 2nd floor for dancing. The building is home for the Ginter Park Recreation Association and has a gym, a pool, and many other community rooms in addition to the dance hall. In past decades, it was a school and then a town hall prior to its current uses.